Industrial Steel Buildings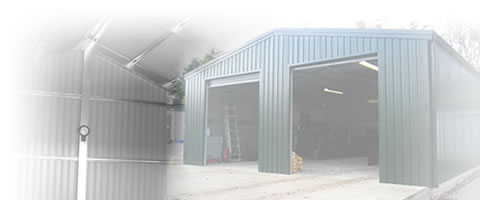 All of our industrial steel buildings are built using portal frames in cold-rolled steel with common features such as
Each industrial steel buildings is designed to exact measurements for the precise customer and location requirements
A huge selection of roller doors can be positioned anywhere on the building.
PA (personal access) Doors, on almost any location on the buildings.
Windows anywhere on the building.
Optional Anti condensation barrier applied to the roof.
A range of single skin cladding profiles to choose from, in either polyester or plastisol finishes.
Double skin composite panels ranging from 40 to 80mm thick.
Double skin composite with (PIR fire rated) panels ranging from 40 to 80mm thick.
Skylights in the roof.
Garaports to the front and/or back of the garages.
Lean-tos to the left and/or right side of the garage.
Internal partition walls.
Open bays almost any where in the building.
Mezzanine floors at almost any height.
Custom Designed Stair cases.
Industrial Specification for Factory Workshop. This multi-purpose steel building serves as storage, office and processing including roller doors for ease of access, with a separate internal office area.

Sewage Treatment Works - Waste Recycling Group (WRG Sheffield) - dual buildings for recycling materials from waste streams.

Finished in Ocean Blue this fully insulated factory unit complies with Building Regulations. Since the installation of this industrial unit the client has extended the building by 20mm.

A large Industrial Unit Built Late 2005 in Scotter Lincolnshire for transport storage built with a dark green steel skin offering secure and flexible accommodation with two main doors for access and giving 7 bays for vehicles.