Landscaping Machinery Storage Shed
6m w x 9m L x 3.5m H Single Skin Steel Building
Why not visit one of our buildings. Make an appointment today!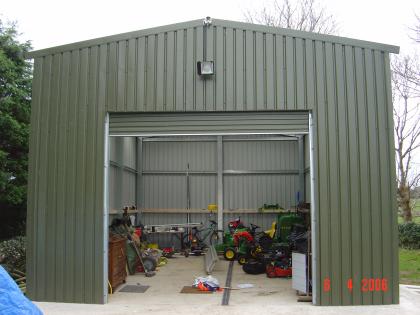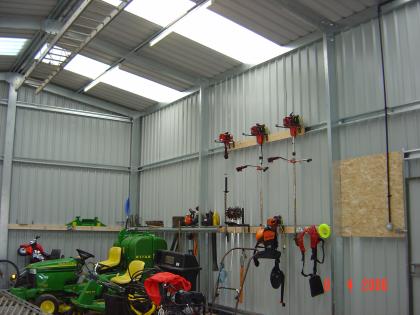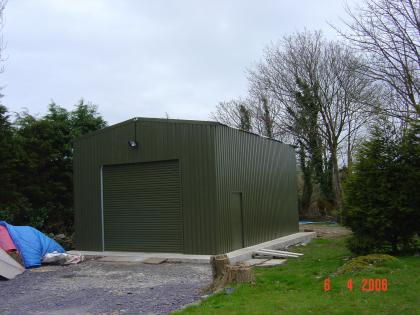 Create your machinery shop with an office above. Mezzanines designed to specification.
Expensive Landscaping tools need security!
Landscape Gardeners, Local Council Grounds Maintenance, Golf course care, to name a few all need valuable equipment to manage their site. In today's market of national and regional crime, can we afford not to lock up these valuable goods? We all understand that a claim on your insurance will result in higher premiums so adding more burden to your bottom line profit.
Save money in the long term by securing your valuables. A little research will show you that for an affordable price, low maintenance and easy to install you can purchase a quality steel structure with cladding guaranteed for 25 years.
Why steel?
Galvanized buildings are a sure way to beat the rot of that wooden shack you are about to destroy. So why not use that existing base and erect a building of your choice. If you are expanding and the existing base is too small, then steel buildings are flexible. Galvanized buildings measure up to 20m wide with no internal supports that means maximum storage facility.
For large landscape companies and staff to match, why not consider using the ground floor as storage, and add a mezzanine floor with stairs for the office above. Stretch the budget and add composite insulated panels which are fire rated, combine this with full length roof lights and you have the total management building and storage facilty.
All this is possible, and all it takes is careful planning from you, as to what you want to achieve in the long term.
Planning consent maybe a must so your dimensions can be transformed into a set of compatible set of drawings to send with your planning application.
In all there is assistance in this market for managing your daily needs and resources, look to the future with a secure mind.