Equestrian Stables and Arenas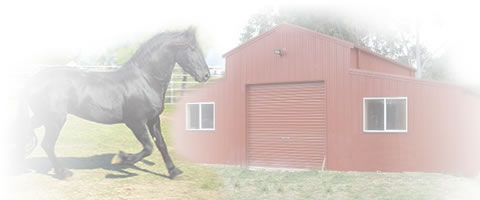 The stables we build are tailored to the use required to provide you with the stables and buildings for horses that meet your specific needs where the care and comfort of your horses is essential. The portal frame design means the interior space can be laid out exactly as you require and the stables are typically custom designed to include space for tack and saddle storage, or space for grooming. For instance the 20m width of standard steel stables can be extended either side by 6m. This will be considered as a lean to producing an American barn style stabling design.
In particular, the building can be built with windows anywhere and skylights, giving good interior light. Main doors can be supplemented by smaller personal access (PA doors). To keep the horses or animals in the best environment, anti-condensation barriers can be applied to the roof and different exterior steel skins applied with or without insulation, depending on requirements. The stable we make have plastisol finishes make them extremely resilient, whilst at the same time being very low maintenance.
Our equestrian buildings are fire-rated and extremely secure.The internal space of the stables can be configured exactly to your requirements independently of the design of the outer structure.
| | | |
| --- | --- | --- |
| We provide a wide range of steel buildings for stabling and animal housing. Here are a selection of images from buildings we've installed across the UK providing for both animal comfort and security | To decide what space and building requirements you have for stabling or equestrian use, firstly work out how many horses you need to accommodate. Now think about how much extra space will be needed for storage. Having considered these give us a call and we can help you work out the dimensions you need for your stables. | |