Motors, Garaging and Garages
Flexible garage work places. Car Storage, Car Repair, Workshop and Car Ports. A steel garage provides an extemely cost effective and durable solution for a secure location for your vehicles.
A wide variety of garage and garaging designs are available for with a variety of widths, heights or with a number of garage doors for multiple vehicles, with the option to include additional space for a workshop or additional storage. Portal frame built using cold-rolled steel means you get the maximum space that you need.
All we need to know are your requirements, including width, length, height to gutter. How many doors do you require, rollers doors, personnel doors or sliding doors. See photos of our garages for examples.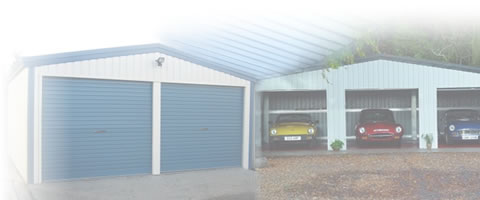 You may require planning consent to erect a garage. We provide the drawings needed for your application and can help with advice and support. On enquiry to Blueriver ask for Council planning drawings and together with the package we will comply. For Terms and Conditions for purchase please see the relevent website section. Order your garage and receive delivery within 2-3 weeks.
| | |
| --- | --- |
| Easy to construct home DIY, supplied with Erection Manual and drawings. | Classic Car Repair Centre. Utilising space to maximum efficiency, a mezzanie floor is added. |
| Create a building to suit you needs. This steel building below is designed to carry out repairs and servicing for a successful Motorsport rally company based in Norfolk. | |